We've all seen them. Those hideous, deceptive, sugary-sweet commercials where mothers are portrayed. Little Timmy makes a godawful mess? Smile and hand him a roll of ultra-obsorbent paper towels. The paper towels's absorbency should totally make up for the ant infestation that will result from Timmy doing a shitty job of cleaning up the mess. Sweet little Susie coughs and hacks all over her sister? Hand her a tissue and some disinfectant. Who knows? Maybe having the ebola virus is fun!
The reactions of these "mothers" is complete fucking bullshit. Unless those bitches are high, there is no way they would react the way they do. Any sane mother would throw a roll of paper towels at motor skill deficient Timmy and tell him to clean up the mess until he can see his face in the linoleum. Or until he starts college. Whichever. And if Layla hacked all over some other kid, first I'd make sure the kid wasn't a little asshole, and then if he wasn't, I'd tell her to stop being a disgusting pig, and pour cough syrup down her throat. Because that's what loving mothers do.
So, here is my version of how a REAL mother would react in these situations:
Made a godawful mess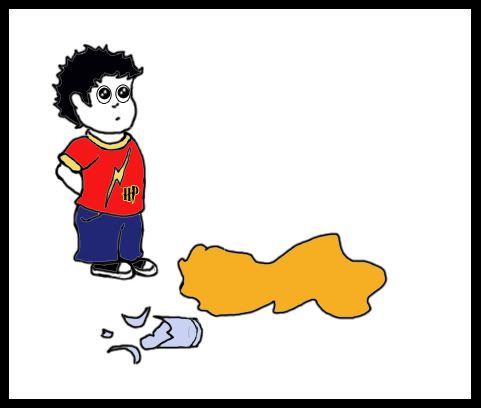 Mom's reaction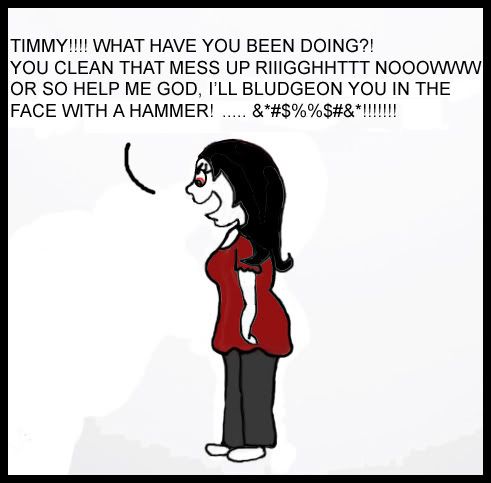 Being a disgusting pig and coughing all over your sister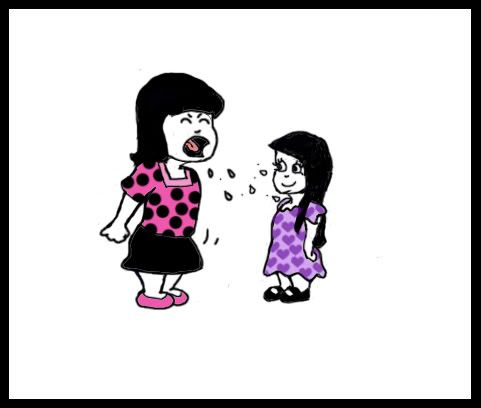 Mom's reaction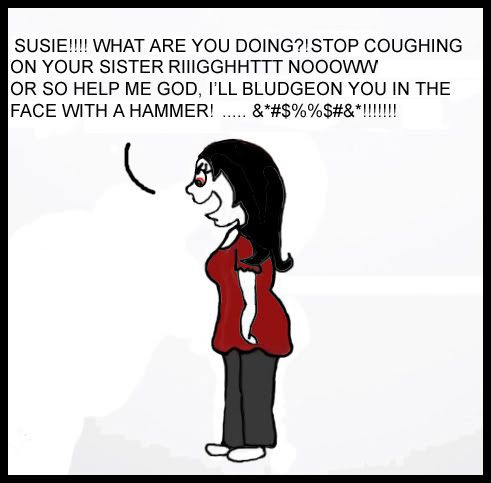 Now I have to go spill something all over the kitchen floor and make Layla clean it up, and then cough in her face. Have a good afternoon, folks.
And no, I wouldn't actually hit my kid in the face with a hammer. Unless she really deserved it, and then I might consider it. :p
**ETA: If you have a commercial that just irritates the holy fuck out of you, and you'd like an illustration of the REAL version of that commercial, send me an email at sugarandspicemyass @ gmail . com (without the spaces, of course), with a link to a video of that commercial, and a description of what you'd like portrayed in the illustration. Or you can just leave it up to my creative genius. Whichever you prefer.