There is an aggravating, rage-inducing trend beginning in my house. Granted, this trend started as soon as she could talk, but it's steadily gotten worse. It's so bad now, that I have actually contemplated hitting her repeatedly with a blunt object. What is this trend?
The "I want that, no I don't want that" trend. This is how it goes: Layla says she wants something, say...cereal. Then when I make it for her, she suddenly, and very firmly does not want it anymore.
Layla: "I want to eat!"
Me: " Awesome. What do you want to eat?"
Layla: "I don't want to eat!"
Me: "Ok then."
Layla: "I'm huunnngggrrryyy!"
Me: "Alright! What would you like?"
Layla: "I want chocolate cereal!"
Me: *takes chocolate cereal out of cabinet*
Layla: "Noooooooooo, I don't waaaannntttt thhaaaattttt!"
Me: "You said you did! OMG! So, what DO you want?"
Layla: "I want chocolate ceeerreeaaallll"
Me: *bangs head against cabinet repeatedly* *pours cereal*
Layla: "Noooooooooooo!" *whines and screams like I'm setting her on fire. Which isn't a BAD idea*
Me: "You're going to eat it, or I'm going to take all your teddy bears and build a bonfire with them!"
Layla: *wwwhiinnnneeesssss some more*
Me: *violently pours milk into cereal, slams it down on table and throws Layla in chair* Eat! For the love of jlksjdf*&%#( JESUS, eat!"
Layla: *pushes cereal away* "I don't WANNA EAT!"
Me: "You'll eat that cereal, or I'll dump it over your head and throw the bowl at you repeatedly! EAATTTT! NOOWWWWW!!!!"
Layla: *grumbles, throws me murderous glares, eats the fucking cereal*
Me: *overdoses on nerve pills*
So. Yeah. I think she finds some sadistic pleasure in doing this to me. And everyone else in the house. There have been times when she's actually had a horrible, violent temper tantrum because I MADE HER WHAT SHE FUCKING WANTED. Why?! She is the only child I know (so far) that actually has a tantrum when she gets what she wants.
It sort of happens likes this: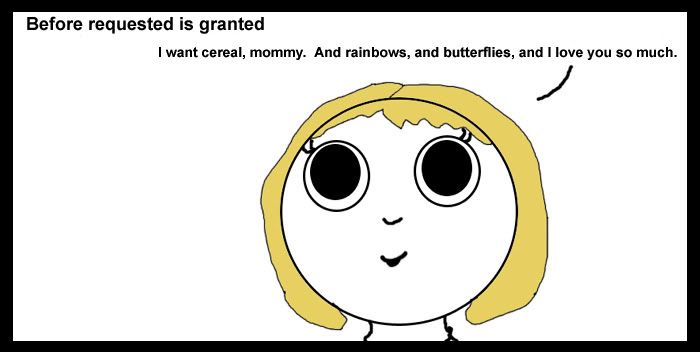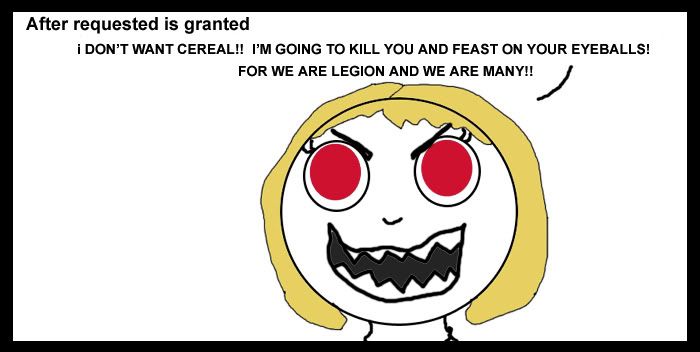 This trend will, inevitably, lead to me drooling and throwing myself against a wall repeatedly. All while screaming "But she WANTED it! Why wouldn't she eat it? WHY??!?!?! *screams hysterically*
Kind of like the "post trip madness" drawing, but with more drool and screaming.
At any rate, the teddy bear bonfire threat was an empty one, because she already started the teddy bear torture without me: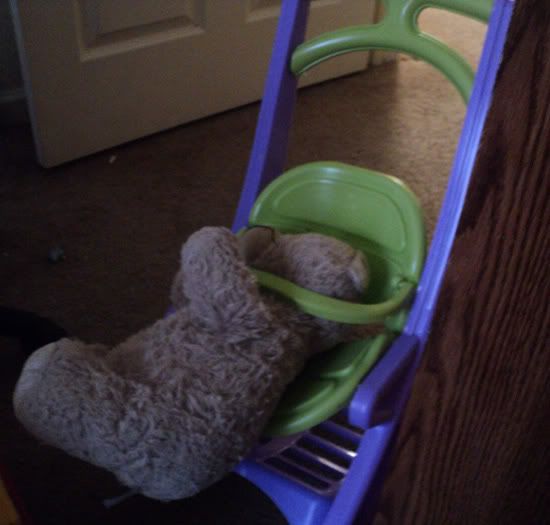 Well, on to plan B, I guess.